APOSTLE KATHY FEEMSTER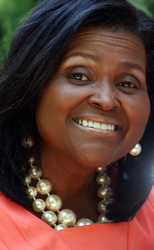 Apostle Kathy Feemster sends you warm greetings from Miracle Tabernacle International Ministries, located in Kings Mountain, North Carolina. Apostle Kathy serves along side her husband, Apostle Theron Feemster Jr., as co-pastor of MTIM.
Along with her family and children, together they bring the word of truth, spirit of worship, hope and faith to the Christian community they have been called to serve. The Feemsters reside in Cramerton, NC.
Apostle Kathy's prophetic anointing enables her to have special wisdom and insight into the deeper things of God and enables her to speak boldly into the lives of the church family she has been chosen to serve. Apostle Kathy's spirit of excellence makes her a vital asset to the MTIM ministry.
She works diligently in her prophetic calling along with her husband, for the perfecting of the saints.
Apostle Kathy received her bachelor's degree in biblical studies from Christian Life School of Theology. She also received her formal education from Gaston College and Evangel Bible College. She is currently working on her Masters degree. She has been active in the ministry for over thirty four years evangelizing and teaching in various locations across the nation. She is an evangelist, lecturer, seminar speaker, panelist, and facilitator.
MTIM Apostle K is the founder of Miracle Tabernacle's Woman to Woman Ministry. This ministry is designed to equip and assist women to fully discover their spiritual image and purpose in God. She is also the co-founder of the "Back to the Garden Marriage Seminar." This program has been conducted and implemented in several churches communicating Gods original design and purpose for fulfilling marriages. Miracle Tabernacle International Ministries feels truly blessed to have Apostle Kathy as a living vessel that God is using to spread the word to the nation.
» Email Apostle Kathy at apostlekathy@mtiministries.com